That's a strange thought for me. Embracing imperfection. Several years ago, I sat in my counselor's office and he challenged me with this idea.
Hi, my name is Aimee and I struggle with perfectionism. Anyone who knows me well will laugh at that statement…because it's painfully true. I'm a first born, high-achiever, minister's daughter. I grew up with eyes watching me, looking to me (or so I thought). Perfectionism was born and rooted deep in my heart.
Perfectionism masquerades as something good. Who wouldn't want to strive for excellence or success in all things? Yet, it comes with BIG cost…insecurity, self-doubt, and lots of SHAME.
See perfectionism is impossible…
Let that sink in a minute.
No one is perfect; no one functions at that high level. We all know this deep down. Perfection is a mirage that leaves us in a desert wasteland, dry and thirsty.
How can this be, you ask? How can something presumably good lead us so astray?
Perfectionism brings SHAME. It communicates, "be perfect and you're okay". When your humanity kicks in and you mess up, perfectionism shouts, "something is wrong with you because you aren't perfect." Cue the shame and unending self-doubt and self-loathing.
Here's the light bulb moment….perfectionism and abuse communicate the same message.
Both speak condemning shame and inadequacy. Both shout, "something is wrong with you." Both abuse and deceive us.
So how do we get free?
By embracing our humanity, weaknesses, flaws, mistakes, warts and all. By sharing our imperfections with those in our life. By living life fully transparent and real. There's freedom here. Scary, vulnerable, beautiful freedom.
You see perfectionism is often image and identity driven. You want others to see you as a "have it all together" person. You fear failure because you see it as your definition.
But failure doesn't define you; it's an experience to learn from. Identity isn't in what you do or don't do. Identity is rooted in something deeper; it's who you are. We are all broken people living in a broken world with other broken people. We are human. Sometimes we get it right and sometimes we fail. What's beautiful about us IS our imperfections. It's what unites us and sets us free.
For me, owning my many imperfections, has freed me from the tyranny of shame that used to beat me up mentally when I failed. I think the biggest Aha moment for me in my own journey was this thought: "If I am perfect than I have no need for Jesus." So beloved, I will revel in my imperfections because Jesus is so much better. I will trade SHAME for GRACE and experience REST and FREEDOM. My mistakes and failures remind me of His perfection in my place. Before God, the perfection I long for is mine, not because of my goodness or excellence but because of Christ's goodness and excellence.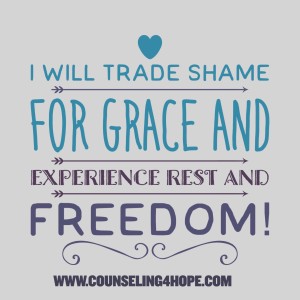 "If I must boast, I will boast of the things that show my weakness" 2 Corinthians 11:30
 "Looking to Jesus, the founder and perfecter of our faith, who for the joy that was set before him endured the cross, despising the shame, and is seated at the right hand of the throne of God." Hebrews 12:2
"Now if perfection had been attainable through the Levitical priesthood (for under it the people received the law), what further need would there have been for another priest to arise after the order of Melchizedek, rather than one named after the order of Aaron….For the law appoints men in their weakness as high priests, but the word of the oath, which came later than the law, appoints a Son (Jesus) who has been made perfect forever." Hebrews 7:11, 28
"For Christ is the end of the law for righteousness (perfection) to everyone who believes" Romans 10:4
"Come to me, all who labor and are heavy laden, and I will give you rest. Take my yoke upon you, and learn from me, for I am gentle and lowly in heart, and you will find rest for your souls. For my yoke is easy, and my burden is light." Matthew 11:28-30